Furball Over The Front Manual
Movement and Attack
XBOX Controller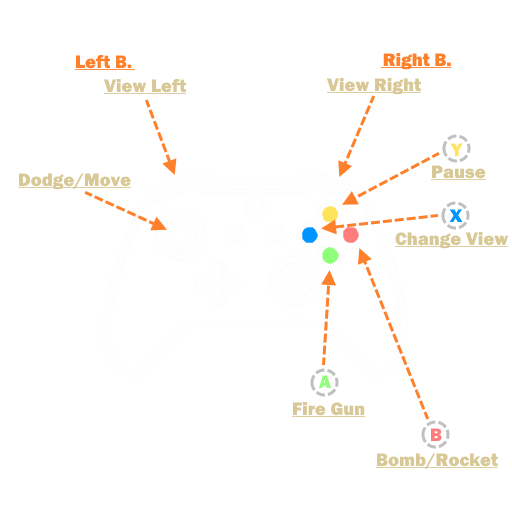 Left Thumbstick - Plane movement/dodging
A/Left Trigger - Fire primary gun
B/Right Trigger - Fire secondary gun
X - Toggle view
Y - Pause
Left Bumper - Snap view left/VR recenter view
Right Bumper - Snap view right/VR recenter view
Mobile/Touch
Move the plane up or down by rotating the device forward or backward while in landscape mode (Touch + Accelerometer), or by using the Touch Input controller or physical controller.
Fire guns by tapping the gun button on the bottom right. When available fire rockets or drop a bomb with the bomb button on the bottom right.
Dodge by rotating the device left or right (Touch + Accelerometer), or by using the Touch Input controller or physical controller.
Use the view buttons to quickly look to your left or right (bumpers on a physical controller) and the toggle view button to change the view from behind the plane to cockpit view
Mouse + Keyboard
Move the plane by holding down the 'Left Mouse Button' near the center of the screen and moving in the desired direction to move up/down or dodge left/right.
Fire guns with the

L. Ctrl

key or 'Right Mouse Button'. When available fire rockets or drop a bomb with the

L. Alt

or

B

key.

Z

key snaps the view to the left,

X

key snaps the view to the right.

L. Shift

or

F

key or the 'Middle Mouse Button'toggles between chase view/cockpit view.

Bkspc

key re-centers view for VR.
Enemies
Arrows above another object indicate an important enemy that is either attacking you or that needs to be destroyed.
Red arrows indicate German forces, blue arrows indicate Allied forces. Red or blue arrows with a circle indicate an enemy that must be destroyed to continue.
Arrows over ground objects indicate enemies that must be destroyed in order to complete a mission.
When in a dogfight your plane and the enemy plane will alternate between offense and defense until either plane is destroyed or the enemy escapes.
You can avoid gunfire, flak, and planes by dodging out of the way. Your plane will lose altitude (sink) when in a dodge.
Your plane carries limited ammo so use it wisely.
Passes
Some missions will require a few passes to destroy or protect certain targets.
Passes will alternate the direction of enemies and targets.
The current pass number and number of total passes allowed will be displayed in the score bar (i.e. Pass 1 of 2).
The current destroyed targets and total number of targets that need to be destroyed will also be displayed in the score bar (i.e. T 3 of 4).
If all the targets have been destroyed on an odd numbered pass, the remaining passes will be skipped.
Strategies: Air
Use clouds as cover to momentarily hide from enemies. The cloud icon will appear when you are hidden from enemy sight.
The screen will flash red on either side when an enemy is attacking from that direction. Use the snap view controls to quickly glance at the threat
Strategies: Ground
Ground machine guns and planes with gun turrets are momentarily disabled when damaged
Bombing is generally successful by flying towards the enemy indicator arrow and releasing the bomb just before flying through it.
It is generally helpful to focus on removing enemy ground machine guns first before targeting ground targets on subsequent passes.
Mission Types: Story
Play through all story missions and unlock them for replay
Fly faster and better armed planes as well as encounter new enemies and targets.
Earn medals, ranks, and bonus endurance missions among your achievements.
Mission Types: Endurance
Unlock endurance missions by completing key story missions.
Destroy as many targets as possible. You will re-gain ammo after each successful kill and re-gain ammo and health after each completed round.
Use flak and other enemies to your advantage to help destroy enemy fighters.